WhoHack #1
2011-12-29 @ Rijeka, Croatia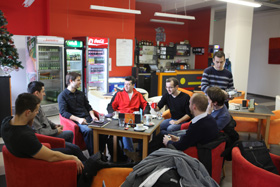 To put it bluntly, It was pure awesomeness! :) Everybody gathered earlirer than expected in caffe bar Fusion, we discussed various ideas we wanted to build and once we decided - hacking started as scheduled.


At first, up to noon, It seemed like there's no way to finish what we have set to do but after we cooled down with the geekish talks you could hear only the sound of keystrokes most of the day. Don't forget to check the full gallery here. To keep this short, here are the finished projects:
LazyType
made by: Sasha Matijasic
lazytype.com is a web service that allows you to use django template language (see here for more details): enter the template with variables, parse it to get a form, fill in the variables and render the template with those variables.
http://lazytype.com 
Concepturon
made by: Goran Duškić
Website about concepts, visionary world and revolutionary products.
http://concepturon.com
Kindlefy.me
made by: Dino Budimilic
Create screensavers for your Kindle device. New much improved version coming soon.
http://kindlefy.me 
BrainMem
made by: Edi Budimilic
iPhone game that will test your memory skills. Open the URL below on your iPhone and save it on your "home screen" before you start playing. Expect it on the App Store soon :) Instructions to play: tap on the white spots in a sequence that was shown to you.
http://edi.budimilic.com/brainmem/ 
Win-Control
made by: Damir Sarcevic
Desktop application for controling elements of any open window, for example: enabling/disabling buttons & forms, editing captions, closing unclosable popup dialogs, etc.
win-control.rar
Kinect hack
made by: Dorde Pozega
Hack made Gink in Trouble playable via XBox Kinekt :) check the video link below.
http://youtu.be/ShhniXo2VGI 
Mask-my-text
made by: Marko Mogus
Micro web service for de/coding text, only those with the selected keyword can see the encrypted text. (service will be available soon)
http://mask-my-text.com
WhoAPI hack
made by: Goran Pereting
Various scripts based on WhoAPI.
—
That's it folks. We hope you like the result of the first WhoHack hackathon, we sure love what we did. Come back soon for more information on the next WhoHack #02, this time - it will be open for everyone! ;)
Original anouncement
This is an announcement of the first WhoHack event powered by WhoAPI.
Goal:
Get your idea to life while having fun. Take anything you could build in 10 hours or less using any skill you have. It can be a new mini web service, public research, windows application, ebook, iphone or android app.. anything! All the mini-projects will be published on whohack.com and promoted via WhoAPI Blog. Feel free to use your favorite version control service if you don't mind being open source :) And yeah, free snacks and non-alcoholic drinks. We don't mind if you bring some more ;)
Event date: 29.12.2011.
Location: Science and technology park in Rijeka, Croatia (WhoAPI office)
Official hashtag: #whohack
Agenda:
10:00 - coffee & chit chat
10:20 - brainstorming ideas & naming them
11:00 - hacking.start();
12:30 - lunch
13:30 - hacking.continue();
20:00 - deadline & publishing finished work
20:30 - supper @ chinese restaurant, for free!!
day after - detailed story of all the mini-projects via WhoAPI blog.
See you next time!